Tax Relief for NYC Cannabis Businesses
In the absence of the passing of the SAFE Banking Act or full-blown federal legalization, the NYS Senate approved legislation and provisions for NYC cannabis businesses to take the same business deductions when they file taxes that non-cannabis businesses take on their tax returns.
NYS cannabis business owners have been able to do so since Governor Hochul signed a tax relief legislation for the state level cannabis business owners last year. This new NYS Senate-approved legislation helps to level the tax playing field for NYC cannabis businesses.
NYS Office of Cannabis Management (OCM) Update: Cannabis Growers Showcase Program (CGS)

The summer appears to be productive for the NYS OCM's Cannabis Control Board (CCB) as they showed their determination to sincerely and actively help move the NYS cannabis industry forward as well as create a program that is meant to help growers.
At the July 19th meeting, the CCB approved a number of initiatives that included:
Creating the Cannabis Growers Showcase (CGS) Program:
Allows selling product outside of retail shops at newly created sales programs called "Cannabis Growers Showcases"
Needs at least 3 growers at the showcase site with a licensed Conditional
Adult Retail Dispensary Licenses (CAURD holder at each CGS)
For every 3 growers at the showcase site, 1 processor can sell other cannabis products such as vape cartridges, edibles, and drinkables
These CGS sites are meant to allow licensed growers to bring and sell quality products to areas in NY where retail dispensaries are in development and not yet opened
Plus:
Approving 212 more CAURD licenses to applicants
Aggressively going after the illegal cannabis market
New regulations to help safeguard cannabinoid hemp products and public safety
Amendments to medical cannabis regulations that are meant to improve patient access and care. (Note that this initiative has a public comment period of 60 days.)
Adopting the regulations regarding licenses for researchers and the work they do to help advance the cannabis industry
Approval of another NYS testing lab, Coral Reef Labs, in Johnson City, NY
It is imperative that the NYS OCM continue to come up with programs to help growers sell their products as the retail supply chain is developing.
Editor's Note: We applaud and thank Cannabis NYC and the NYS OCM for exhibiting and speaking at CWCBExpo 2023 this past June.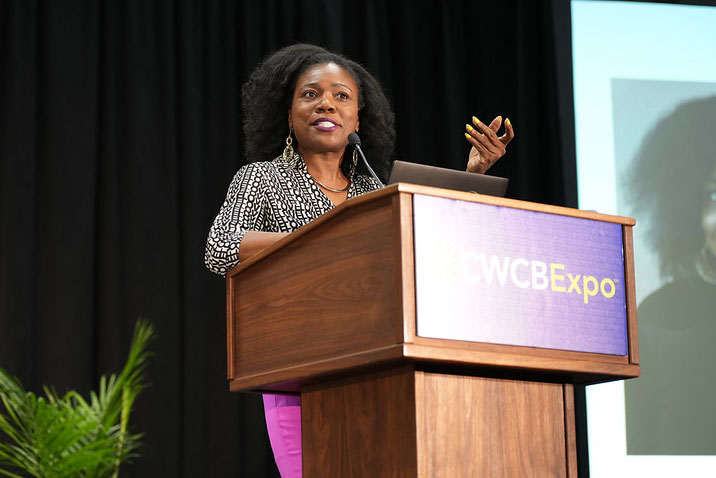 Congratulations to One of Our Local NYC License Recipients
Vlad Bautista, Co-founder and CEO of Happy Munkey, was one of the recent NYS CAURD License recipients.
Good luck, Vlad!
"NY Small Farma" Gathered Local Growers at CWCBExpo's Growers' Field
CWCBExpo New York 2023 featured a special section on the show floor called Growers' Field. It was a great opportunity for cultivators to network at a large scale B2B event.
CWCBExpo thanks Nicole Ricci, President of NY Small Farma, for helping to bring together many of the farmers who exhibited in Growers' Field.
Staten Island's First Adult-Use Dispensary Opening Soon!
This fall, Staten Island will celebrate the opening of "The Flowery Dispensary" at 3022 Veteran's Road West in Charleston. This will be the borough's first legal adult-use dispensary, and CWCBExpo will be there for the opening.
CWCBExpo spoke with owners, Shlomo Weinstock and Moe Elgaly:
"We look forward to providing Staten Island with high-quality, lab-tested, safe, and regulated cannabis, as well as the education needed for consumers to choose the best products for themselves. Our flagship location at 3022 Veterans Road will serve as a prime example of the cannabis industry partnering with the local community to enhance the lives of New Yorkers and cannabis consumers."
NYS Social Equity Funded by Chicago Atlantic
Last month in June, Governor Kathy Hochul announced that Chicago Atlantic committed to fund $150MM of the planned $200MM goal for the NYS Social Equity Fund that is targeted to financially help and support those who have suffered negative impact by unjust enforcement of cannabis prohibition. This announcement of Chicago Atlantic's commitment is a great step forward for NYS to get the entire goal achieved.
CWCBExpo featured two CannaVest East conference sessions that included Chicago Atlantic's Steven Ernest who spoke with other industry executives in the sessions, "CannaVest East: Cannabis Real Estate Investment Opportunities" and "CannaVest East: The Rise of Debt Financing in The Cannabis Industry & Impact on Industry Dynamics."
In our last Newsletter we mentioned and congratulated the Co-founders of Earth & Ivy, a New Jersey Dispensary that opened its doors in May in New Brunswick, NJ. 
Since then, the NJ Cannabis Regulatory Commission (NJCRC) has been quite busy working to award more NJ cannabis licenses. This really helped to increase the adult-use retail sales locations in NJ which now is fast approaching almost 50 – the tally sits currently at 45.
NJ Business Action Center
CWCBExpo welcomed the NJ Business Action Center (NJBAC) to the show floor this past June.
The NJBAC is a business advocacy team within the NJ Department of State, dedicated to solving problems and maximizing growth opportunities for your business. They are currently rolling out a training academy that will provide no-cost technical assistance, training and mentorship to NJ recreational cannabis license applicants.
Maryland's First Week of Adult Use Sales Tops $21 Million
On July 1st Maryland began its adult-use retail cannabis sales and the dispensaries took in over $10 million in just the first weekend, with the first full week totaling over $21MM. The first year of sales is anticipated to reach $600 million.
Adult Use to Begin August 1st
We congratulated Minnesota in our last Newsletter for becoming the 23rd state to legalize recreational marijuana. On Tuesday August 1, adults 21 or older may cultivate, possess (in certain limited amounts), and use cannabis for personal use. In addition the state will begin the process of reviewing and expunging arrest records for low-level minor offenses involving cannabis.
Laws Across the USA – Catch up with NORML
CWCBExpo thanks NORML, who has been represented at nearly every CWCBExpo since the beginning. CWCBExpo is also proud to be a supporter of the well attended NORML FORML annual fundraiser.

CWCBExpo applauds Minorities for Medical Marijuana (M4MM) and  Project Clean Slate, who presented an Expungement Clinic at CWCBExpo this past June. We were thrilled to coordinate wtih M4MM as they set up their team of lawyers and advocates to promote Project Clean Slate which seeks to help those with minor marijuana offenses obtain expungements.
President Volodymyr Zelensky of Ukraine has expressed his support to legalize medical cannabis use. The Ukrainian Parliament has approved a legislative bill that will go to a second review before Zelensky is expected to sign it. The rules included in this bill and the maturation process for Ukraine's cannabis legalization will go through many levels of growth and progress just like other countries.
On July 5th Germany published guidelines that seem to methodically legalize adult-use cannabis for personal use, growing, and cannabis consumption in social clubs and settings. This is quite exciting and actually is a remarkable model to come out of the gate with.
Ever been to Luxembourg? It is a wonderful place to visit. The editors traveled there a few years ago and cannabis was not mentioned ever. Progress, progress, progress – one step at a time.
This July, Luxembourg legalized the cultivation of up to 4 plants in a household by adults aged 18 and up. The plants must be in the home, and not visible to the public. Laws related to public possession and public consumption remain in effect – but progress has to start somewhere.
CWCBExpo appreciates and thanks Gia Morón for her great collaboration and partnership over the years. We are proud of all of the work we did with Gia and with Women Grow in our events.
Gia was a huge part of the CWCBExpo women's initiative with Women Grow in 2021, 2022 and 2023. Under Gia's leadership, Women Grow vetted and selected female entrepreneurs and aspiring business owners who exhibited in the Women's Pavilion on the show floor. Many of those entrepreneurs now have their products in retail shops after getting noticed and making connections at our events.
We know that Gia Morón will continue to knock it out of the park in any and all endeavors she embarks on.
For Timely News Updates and In-Depth Articles Check out the CWCBExpo BLOG
CWCBExpo blogs contain relevant, timely information. Recent subjects include cannabis testing laboratories, packaging, facility security, and legalization and regulatory updates.
Continuing to build the industry together!

Blink and it will be here!

CWCBExpo
June 5 – 6, 2024
Javits Convention Center, NYC